Enjoy this page? Please share it on:
The Christian Art Collection comprises paintings of a religious theme. God is very important to me and is a huge part of my life. I am very grateful to Him for my gift of oil painting and everything else He does for me. Through my paintings, it is my desire to communicate all the wonder and majesty of the great I AM. I attempt to achieve this through a painting technique called "realism".
Realism in art is a style of painting which depicts the subject matter as it actually appears in real life. There is no attempt to artistically stylize or distort the subject matter in any way. Instead I spend a fair amount of time and effort paying attention to detail and creating an accurate depiction of life forms and objects, perspective creating the illusion of reality, good composition, lights and darks, and color and tone. However, I stop short of my paintings looking like a photo, but rather prefer to communicate a Christian message by representing God's handiwork in nature through realism.
---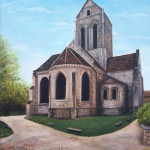 Van Gogh's Church at Auvers, France
Landscape by Teresa Bernard
20″ x 24″
Oils on gallery wrap stretched canvas
Vincent van Gogh is one of my favorite artists. I find his life and paintings to be so interesting. During his life he painted many works of art people aren't even aware of. The painting he did of this church is one of his better known paintings.
>> More info
---
Calvary at Sunset
Landscape by Teresa Bernard
20″ x 16″
Oils on stretched canvas
Scripture tells us the body of Jesus was taken down from the cross just before sunset on Good Friday, also referred to as Holy Friday.
>> More info
---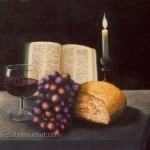 The Communion Table
Still Life by Teresa Bernard
14″ x 11″
Oils on stretched canvas
This oil painting depicts The Lord's Supper a ritual instituted by Jesus the night of Passover observance.
Other Series & Collections
Adventures In Africa Collection
Paintings of Sunsets Collection
Thanks for reading this!
Feel free to share this with your friends.
---
Enjoy this page? Please share it on: