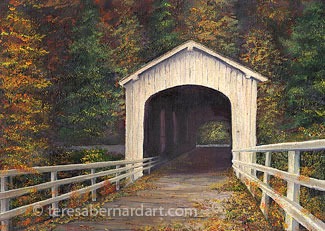 Size: 12″ x 9″
Support: Canvas panel
Description: A autumn landscape painting depicting one of many covered bridges in Oregon. This painting is composed on quality canvas panel and does require a frame before it is displayed.
SOLD: This autumn landscape painting has sold to a private art collector in Texas. If you like this painting and desire one that is similar or some other subject matter, Teresa Bernard does art commissions. Click the link above for more information.
Artist Comments
One of the many things Oregon is known for is its covered bridges. Lane County seems to have an abundance of them. My friend Judy and I had a delightful time one autumn day discovering some of those bridges. The covered bridge depicted in this fall painting is Earnest Bridge over the Mohawk River. You can find out more about the historic bridges of Lane county here.
This painting is one of my earlier works. Unfortunately I don't have photos of all my earlier works, but this one I did.  I hope you enjoy it.
Other Paintings of Oregon
Here are some other paintings I've done of Oregon while I was living there.
Art Commissions
Not Finding What You Are Looking For?
Teresa creates works of art for fellow art lovers all over the world. Follow this link to find out how to commission a painting of your own. Or contact us for more information.
Have a question?
If you have a question about this painting, please contact us and we'll be happy to answer any of your questions.
Teresa's Insider News
Be the first to know! Sign up here to be among the first to receive sneak peeks of recently completed paintings, new announcements and other updates at the art studio.
Teresa has an insider newsletter and it's FREE! This is her way of keeping her friends up to date by giving you sneak peeks of new paintings she completes, as well as other announcements before they are made public. Her newsletter is published every other month, so be sure to get on her mailing list. You don't want to miss a thing!
Thanks for looking!
Feel free to share this with your friends.
---