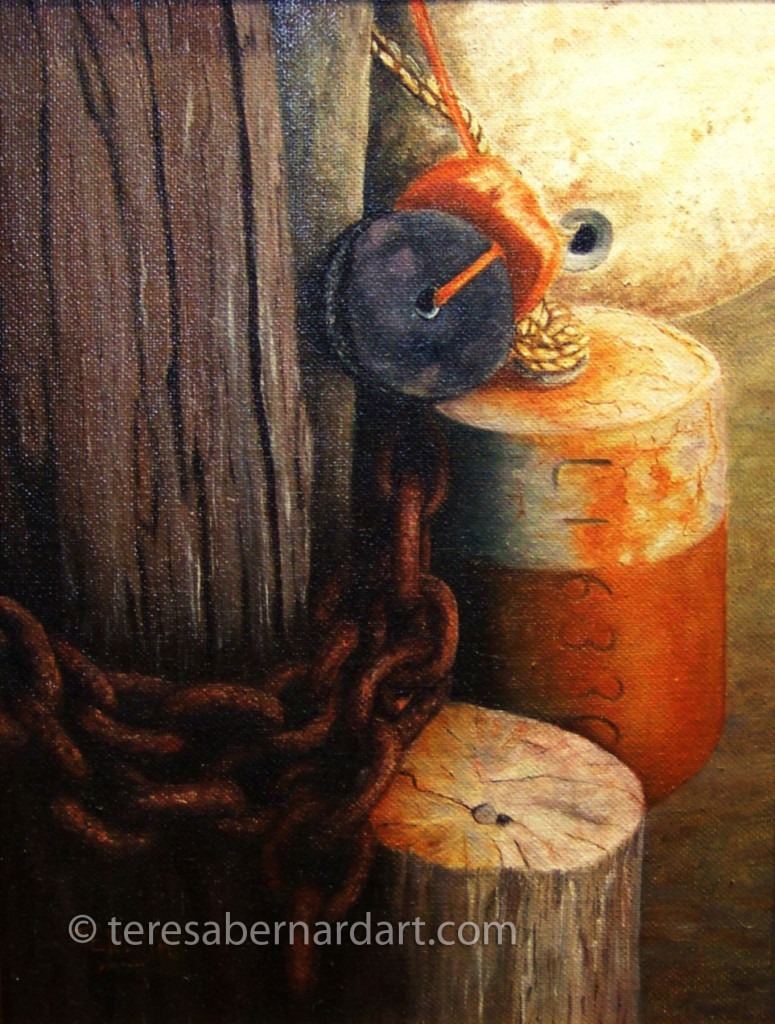 Size: 9″ w x 12″ h
Support: Canvas Panel Board
Description: A nautical theme painting featuring fishing boat fenders, chains, and pier columns. This artistic work will make an excellent gift for that person in your life who has a love for the water, fishing, or boating. It would make a wonderful addition to the nautical-themed decor in your house, office, man cave, or fishing cabin. The painting is signed by fine artist Teresa Bernard.
Boat Fenders painting is hand-painted on a quality canvas panel board. It will need to be mounted in a frame before it is put on view.
Artist Comments
Sometimes I like to give myself a challenge when choosing a subject matter for my paintings. I found these fishing boat fenders tied to the pillar of a fishing pier very interesting because of all the different textures (wood pier, rusty chains, and rubbery boat fenders) present. I thought they would make an interesting challenge trying to paint all that texture. One does get a sense of texture from the detail in this artwork.
Other paintings that were a study of texture are: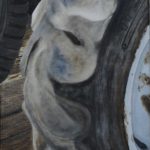 About Boat Fenders
A boat fender is a type of bumper or cushioned buffer used to prevent a boat or other watercraft from bumping into a dock, pier, or another boat causing damage to its hull. They are often constructed of rubber, foam, or plastic, and they come in various shapes and sizes depending on their use.
Purchasing Information
NEW LOWER PRICE!
$180
was $210
FREE shipping and handling within the U.S.A.
Contact us for international postage and handling.
By purchasing your painting from this site, you are buying directly from Teresa Bernard. All transactions are via PayPal, a safe and secure way to make your purchase.
Authenticity Certified
This painting comes with an official Certificate of Authenticity. It is your guarantee the artwork you have purchased is a genuine Teresa Bernard Oil Painting.
Have a question?
If you have a question about this painting, please contact us, and we'll be happy to answer any of your questions.
Other Paintings Of Interest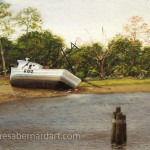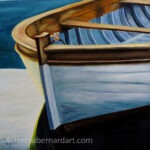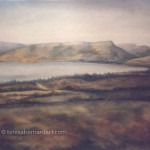 Teresa's Insider News
Teresa has an insider newsletter, and it's FREE!  Be the first to know! Sign up below to receive sneak peeks of recently completed paintings, new announcements, and other updates at the art studio.
Your Feedback
♦ "This is some awesome work." — Trinity-Forge, The Patriot's Buycott Group. Non-Woke American Companies Only, Gab
Thanks for looking!
Feel free to share this with your friends.
---
UPDATED: 06 May 2022