Enjoy this page? Please share it on:
The oil paintings in this series are of ancient Bible places and also modern day Israel. I've always wanted to travel and visit these places, to walk the streets of the cities I read about in the Bible and explore the culture of the peoples who live there. Maybe someday.
For the Lord your God is bringing you into a good land, a land of brooks of water, of fountains and springs, flowing forth in valleys and hills; a land of wheat and barley, of vines and fig trees and pomegranates, a land of olive oil and honey; a land where you will eat food without scarcity, in which you will not lack anything; a land whose stones are iron, and out of whose hills you can dig copper. When you have eaten and are satisfied, you shall bless the Lord your God for the good land which He has given you. — Deuteronomy 8:7-10 New American Standard Bible (NASB)
All reference photos used as source material for the paintings in this series is with permission and courtesy of www.BiblePlaces.com — Photos of Israel from the Pictorial Library of Bible Lands.
---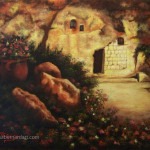 The Garden Tomb at Sunset
Landscape by Teresa Bernard
12″ x 9″
Oils on stretched canvas
>> More info
---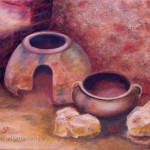 Still Life with Iron Age Pottery
Still life by Teresa Bernard
14″ x 11″
Oils on stretched canvas
>> More info
---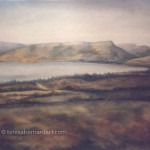 Sea of Galilee at Capernaum
Landscape by Teresa Bernard
20″ x 16″
Oils on stretched canvas
>> More info
---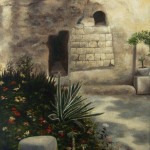 The Garden Tomb
Landscape by Teresa Bernard
9″ x 12″
Oils on stretched canvas
This painting is part of my private art collection.
Other Series & Collections
Adventures In Africa Collection
Paintings of Sunsets Collection
Thanks for reading this!
Feel free to share this with your friends.
---
Enjoy this page? Please share it on: