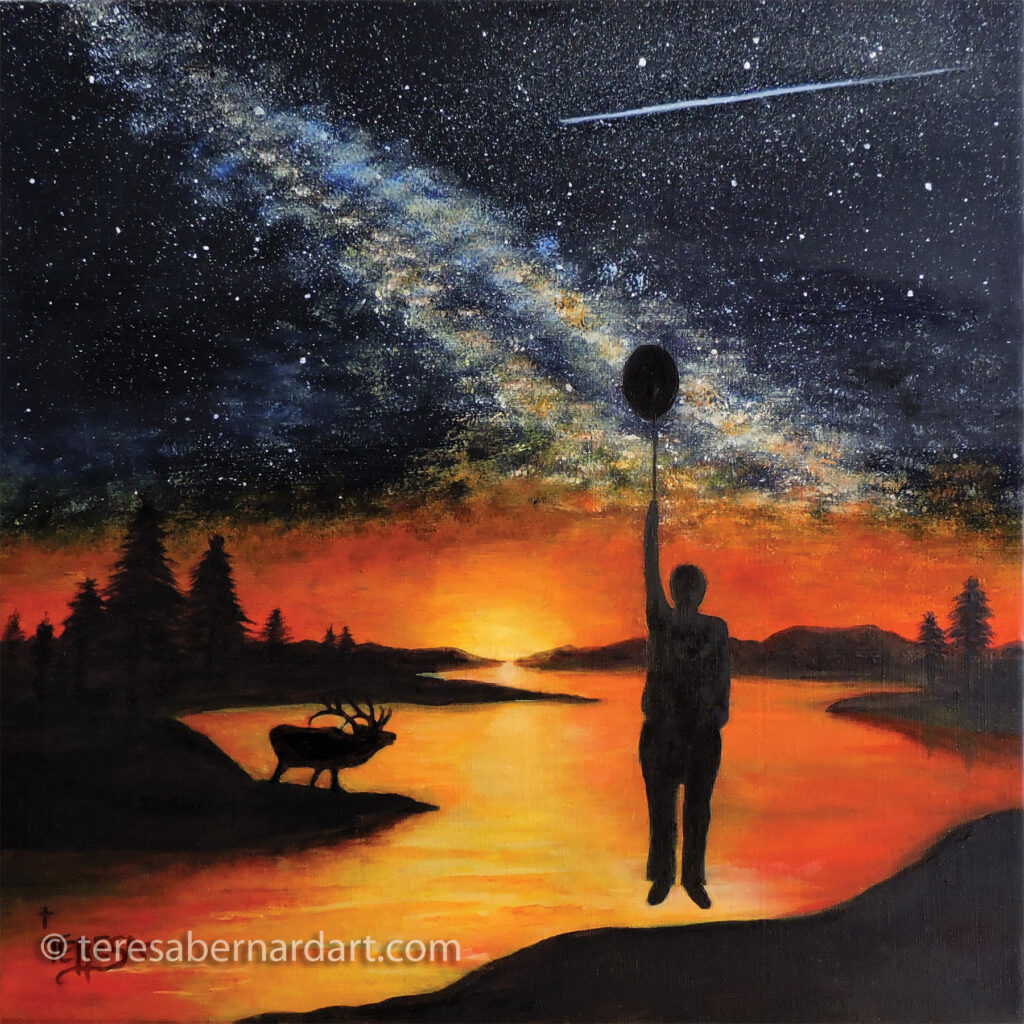 Size: 12″ w x 12″ h
Support: Gallery Wrap Stretched Canvas
Description:  A painting of a starry night with the silhouette of a man holding a balloon drifting off into the infinite beauty of the night sky and outer space. Hand-painted and signed by fine artist Teresa Bernard.
SOLD: This painting is a commissioned work and has been sold.
Customer Feedback
"It looks absolutely stunning. You've beautifully captured the concept we wanted." — Steven Sisolak, MindSlicer, Bloomington, IN
Artist Comments
The Beautiful Infinite is a commissioned painting that I did for the band members of MindSlicer, an alternative music group. They contacted me because they liked my artistic style and especially my space art paintings. The band wanted to know if I would be willing to create a painting for them to use as the cover for their upcoming album.
My Assignment
Compose a painting that emphasizes the infinity of space with thousands of visible stars and galaxies. It needed to be colorful and vibrant to balance the colder night sky with equal parts of warmth.
In addition, the composition needed to include the silhouette of a person standing on the bank of a river or edge of a precipice. This person holds a balloon and is partially floating up into the air as if the balloon were trying to carry him off into the starry night sky.
Teresa's Insider News
Be the first to know! Sign up here to be among the first to receive sneak peeks of recently completed paintings, new announcements, and other updates at the art studio.
Teresa has an insider newsletter, and it's FREE! This is her way of keeping her friends up to date by giving you sneak peeks of new paintings she completes, as well as other announcements before they are made public. Her newsletter is published every other month, so be sure to get on her mailing list. You don't want to miss a thing!
Have a question?
If you have a question about this painting, please contact us, and we'll be happy to answer any of your questions.
Thanks for looking!
Feel free to share this with your friends.
---
UPDATED: 07 November 2021